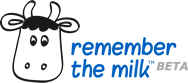 Did I said in my lst post that I'm getting grip of my time? Well, almost. I cheered a bit too early.

But what is getting better is my personal organization. I'm doing the Getting Things Done (GTD) time management for a few months now and it's great. There's a lot to tell about GTD but in short it just means that you have to put everything in a specific system. A very important part of that system are the checklists and inboxes. I did not realize that there is such a difference between using checklists en using checklists correctly!

The getting out it out of your brain and into a system gives a lot of peace because I don't have to think about all the stuff I have to do. It's now all organized in a system and I can do everything one thing at a time without being distracted by other "stuff". With that said: there's for me still much room for improvement and GTD doesn't help make a baby stop crying :)

The checklists are handled in my Palm, but for my work I use Remember the Milk to keep things seperate. It's one of those websites that are more an online application that a traditional, Web 1.0 website.